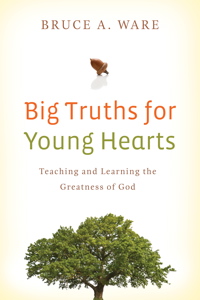 I must admit that when I first learned Bruce Ware had written a book for children, I was both excited and skeptical. I was excited because there is possibly no one more qualified to teach theology to anyone than Bruce Ware, and to know that he was devoting his efforts to teaching children is wonderful. I was skeptical because I have had problems in the past processing some of the 'big truths' Ware teaches, and I wasn't sure that they would be approachable by kids.
My excitement was well placed and my skepticism was unfounded. Bruce Ware has written a wonderful book in Big Truths For Young Hearts. It was written to be understandable for a nine year old (so I was right at home). The wording is approachable for kids, but probably more important is the fact that the book is broken down into very small chapters (3-4 pages) each of which includes study questions and a memory verse. Kids might struggle to read through a 240 page book, but lots of kids would be excited to read 3 or 4 pages a night with their parents and then discuss the reading and focus on a memory verse.
C.J. Mahaney gives this nice blurb on the back cover:
"Imagine a respected theologian devoting himself to training a new generation of pastors and scholars in the seminary classroom. Now imagine him driving home at night to teach that profound theology in simple terms to his children at their bedsides. Now imagine this father compiling those bedside conversations into a book available to all pastors, parents, and children alike. Imagine no more. My friend Dr. Bruce Ware has done it."
Ware doesn't shy away from teaching the big truths and the big words. This book is about more than Arks, rainbows, and coats of many colors. Ware has forged a new path away from moralistic teaching from narrative stories, and has created a veritable systematic theology for children that is filled with scripture quotations and references. I can hardly wait for my kids to be able to wrestle with this book. In fact, I was blessed by reading it and challenged to understand my own theology so well that I could formulate it in words that children can understand.
I'm not the only person impressed by this book, Big Truths For Young Hearts, is number 447 on Amazon's overall sales rankings. I encourage you to share this book with your kids now, or in the future, or even with your grandkids. We need to start our kids on the meat of God's word early so that they grow into spiritual maturity as they mature physically and mentally.
UPDATE:
See Owen Strachen's "Big Truths: #287 on Amazon"
At the Crossway blog: "Big Truths Climbing the Charts"