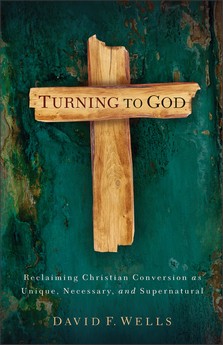 The nature and question of true conversion is a hot topic in the church today. At the Southern Baptist Convention this year, David Platt found himself in a bit of hot water by questioning the validity of the "sinner's prayer."  The debate there hinges on the exact usefulness of a canned prayer to bring about salvation.  No one questions whether or not prayer is important in conversion, but whether or not it is sufficient.  Does a prayer offered by a 16 year old who attends church for 6 months and never returns really constitute salvation?  If so, then what do we do with the Biblical teaching on repentance?  If not, then why do we continue to lift up the sinner's prayer as the end-all-be-all of evangelism?  Much of this is reminiscent of the Lordship Controversy of the late eighties and nineties which brought evangelical leaders out on both sides.
In Turning to God, David Wells seems content to stay above the fray and out of the argument.  Though this book was originally published in 1989, most of the primary voices in the Lordship debate are left out of Wells' bibliography.  Rather than engage the arguments, Wells seems content to engage the text of Scripture.  His purpose in writing this book is to place the emphases for conversion in the places where the NT writers place the emphasis,
The New Testament writers view conversion dynamically–as something one does–and they interpret it theologically with words such as faith, repentance, grace, forgiveness, and regeneration.
Far from arguing that conversion is solely an act of the will, however, Wells presents conversion as an act of God upon sinners  that brings about a response.  Nevertheless, his emphasis in this book … Continue reading →